Gives you free hot water

from your PV array!
Reduce the use of your boiler
Solar iBoost+ is our latest automatic water heating device for pv system owners. Its increased efficiency and extra functions deliver even more savings and when coupled with iBoost Buddy you can conveniently monitor and control Solar iBoost+ within the home.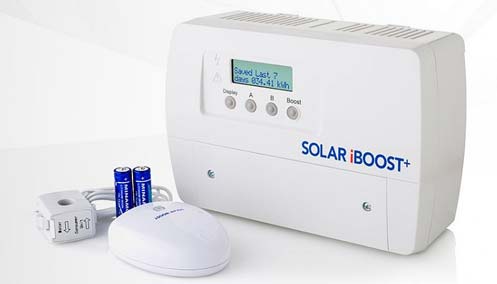 Benefits of the Solar iBoost System
Diverts surplus PV energy to heat water in the home.

Cuts the cost of heating and maximises free solar energy.

Wireless connection simplifies installation – eliminating unsightly wiring.
Display shows real time and historic energy saving figures.

Programmable timer including summer & winter programmes.

Boost button to switch on the immersion directly from the grid for instant hot water.
"Very good company – Has a genuine interest in the customer".
Solar iBoost+ uses only the energy that would otherwise be exported.
Solar iBoost+ fits quickly and neatly next to your water cylinder wired simply between a fused spur and the immersion. No need to change your standard immersion heater up to 3kW.*
It responds rapidly to the varying home consumption and changing weather ensuring that only excess power is used.
Solar iBoost+ features connections for 2 immersions, switching between them automatically to maximise electric water heating systems.
Wireless Sender eliminates unsightly and costly wiring.
Solar iBoost+ displays real time information "Heating by Solar 1.6kW" and historical energy saving figures are seen at the push of a button. View this and more data using the optional iBoost+ Buddy home display.
LED's also give an instant visual indication of the system in operation.
Simple programmable timer enables Solar iBoost+ to work in harmony with your existing water heating system on a 5/2
day basis. Even separate winter and summer settings can be programmed and switched between at the push of a button.
Selectable languages; French, German, Italian, Portuguese & Spanish.
Built-in Boost override switch keeps you in control so you can top up your hot water in 15 minute increments up to 2 hours.
Solar iBoost+ is ready to connect wirelessly to the Buddy if added at installation or a later date.
CE compliance to all product and safety standards conducted by independent test laboratories.
2 year warranty. Dimensions: 288x255x100mm 1.95kg