Harness the sun's energy while saving money
Choosing a Solar PV solution is not only good for the environment, it's good for your business too. Installing a Solar Electric system will allow you to reduce your overheads, generate revenue from your roof and avail of the Accelerated Capital Allowance. Of course, your company will also improve its green rating, reduce its carbon footprint and raise your social responsibility profile within your local community and beyond.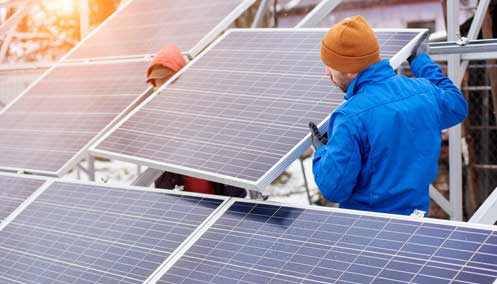 The benefits of PV solar panels
Huge electricity savings.

20 year guaranteed output.

Free electricity forever.
High Building Energy Rating (BER).
PV or photovoltaic solar panels turn daylight into free electricity.
These operate completely differently from solar hot water collectors. When daylight strikes a PV solar panel, a DC electrical current is generated. If you arrange several of these panels on a roof in series, the current becomes significant. This DC current then travels down to an inverter, which converts the electricity from DC to AC. All homes in Ireland use AC power to run electrical items in the house.
PV solar panels provide free electricity with a guaranteed output for the next 20 years. That gives you peace of mind long into the future.
"I will be telling all my family & friend's about the great service from Gilroys.ie".
Industry Sectors
We are a company which specialises in Green Energy (Renewable) PV Solar Panels in grid or stand alone, Thermodynamic Solar Panels Systems, Heat Pumps, Stoves, Boilers, Under Floor Heating etc.
Commercial

Hotel and leisure

Agriculture
Health

Military

Remote electrification
Commercial Solar PV install gallery